You are here
Events
Main events calendar
Past Events

11 July 2021 - 11 July 2021
Global

11 July 2021 - 11 July 2021
Global
Rights and choices are the answer: Whether baby boom or bust, the solution to shifting fertility rates lies in prioritizing the reproductive health and rights of all people
In this second year of COVID-19, we are suspended in an in-between state, where parts of the world are emerging from the deep recesses of the pandemic while others are locked in battle with the coronavirus as access to vaccines remains a distant, deadly reality. 
Details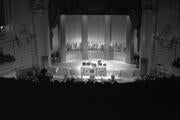 24 October 2018 - 24 October 2018
Global
UN Day celebrates the anniversary of the day the UN Charter entered into force in 1945.
This founding treaty was initially signed in San Francisco, on 26 June 1945. After it was ratified, it entered into force on 24 October, marking the birth of the United Nations.
The Preamble of the Charter lays out the UN's core aims:
Details
Pages