SHANGHAI, China, 18 December 2018 – The United Nations Population Fund (UNFPA) today announced a new project in Shanghai to promote youth leadership in countries along the Belt and Road.
In partnership with Beifang International Education Group (BIEG), UNFPA will support the exchange of knowledge, facilitate mutual learning among young people, and promote dialogue between youth and decision makers in areas of critical importance to youth.
"We believe that when empowered, young people become effective drivers of change. UNFPA works across the world in more than 150 countries, including China, to ensure that all young people have the information and services to guarantee their healthy development, and are availed opportunities and capacities to lead and participate in the development process and its benefits," said Dr. Babatunde Ahonsi, UNFPA Representative in China.
Through the two-year project, young people will be able to participate in trainings on leadership, youth health and communication skills, decision making, and understand global development issues including the Sustainable Development Goals.
A youth friendly club will be established in Shanghai Lida University to support the project.
"It will provide young people with an international platform to communicate and learn from each other, strengthen youth leadership, promote youth participation in international affairs, and the globalization and internationalization of higher education," said Professor Wu Baode, Vice President of Beifang International Education Group.
The youth leadership project will carry out demonstration activities with an aim to replicate them elsewhere and scale them up to other cities and countries along the Belt and Road.
***
Notes to editors    
About UNFPA
UNFPA - the United Nations Population Fund, works on population dynamics, sexual and reproductive health, youth development and gender equality. Headquartered in New York, UNFPA started working in China in 1979 and has been promoting social development and equity in China for nearly 40 years. For the past four decades, UNFPA has established close partnership with government agencies, NGOs, experts, and media. 
Promoting youth development, especially promoting youth leadership and participation is key to UNFPA's work in China and globally. In the past decade, UNFPA has been cooperating with China National Health Commission, China Family Planning Association, Peking University, and the Central Committee of the Communist Youth League to carry out youth capacity building trainings and workshops, experience sharing events, and social development programs, providing young people with platforms and opportunities to realize their potential.
For more information: http://china.unfpa.org.
About Beifang International Education Group 
Beifang International Education Group was founded by the Northern Investment Group in February 2013, as a platform for sharing resources, improving operations, and promoting internationalization in higher education. Since then, BIEG has undergone a period of rapid development, with a steady increase in both enrollment and overall quality.
BIEG manages in total 18 private universities in China and overseas, with around 200,000 registered students and more than 40,000 teachers and administrative staff members. Headquartered in Beijing, BIEG also has offices in Los Angeles, Vancouver, Sydney, and London. 
For more information: http://www.beifangedu.net/.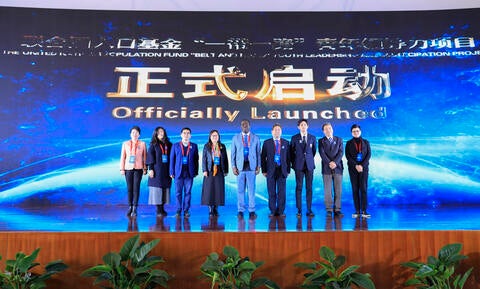 UNFPA Representative in China Babatunde Ahonsi, China Family Planning Association Counselor Hong Ping, Beifang International Education Group Vice President Wu Baode, Shanghai Party Working Committee on Private Higher Education Deputy Secretary Wang Ruijie, Shanghai Education International Exchange Association President Jiang Haishan, Beifang International Education Group Overseas Affairs Dept. Director Yang Miao, Film Director Hu Mei, Mebo Group Vice Chairman of the Board Li Li, Project Advocate and Youth Actor Hu Xianxu, come to the stage to mark the launch of the youth leadership project. ©BIEG/Fu Shengtong